If you missed it, please see part 1 of this trip report.
After lunch we headed over to Space Mountain to use our Fastpasses we obtained earlier. The Space Mountain structure is interesting in Tokyo Disneyland because the entrance is like Disneyland's version where you have to go up to a second level to get inside the mountain. There is no Magic Eye Theater under Space Mountain in Tokyo, you just have to go up a speed ramp (like they had in Disneyland from Space Mountain's opening until 1997 when it was removed).

As for the ride itself, the layout is an exact copy of Disneyland's. The only differences are the loading area has a slightly different theme (it's more alien-ie, if that makes sense), and there is no on-ride audio. The on-ride audio in Disneyland's version definitely adds a lot to the experience but it was cool to ride it the old fashioned way in Tokyo.

A bit later we were walking through the hub and saw thousands of people sitting and waiting for the parade. Parades are a huge deal in Tokyo Disneyland but we hadn't planned to view any of them. I looked at the entertainment guide for the day and saw that the parade was about to start in about 10 minutes, and we saw some pretty good seats available, so we grabbed them to see what all the fuss was about. I'm glad we did, I got to see up close how much joy the parades bring the visitors to the park. I saw a ton of people clapping and singing along, and waving, one recurring thing I kept seeing during the trip was how much Japanese people love to wave. Look at that picture above, notice how everyone is sitting and therefor everyone can see? Sitting is required when watching a parade at Tokyo Disneyland. It makes for a great parade viewing experience, why can't the other parks do this?

Tokyo Disneyland's parade is called "Happiness is Here" and it was added last year for the park's 30th anniversary. It's a typical Disney park parade with a ton of characters, dancers, and a ridiculously catchy theme song that we were singing for the rest of the trip. An impressive aspect of this parade was the huge size of some of the parade floats. I'm not a parade person but I did enjoy Happiness is Here, especially after seeing the reaction from the crowd.

With a parade out of the way I decided it was time to continue the Tokyo Disneyland experience by trying a box of one of their famous flavored popcorns. Popcorn is huge in Tokyo Disney Resort, we saw lines of over 30 minutes in length at each popcorn stand. Many people have the very cool, but very expensive, themed popcorn buckets (which I forgot to take a picture of, oops), but those can be as much as $20. I had to desire to lug on of those buckets across the pacific ocean so we got a standard box of popcorn for about $4.

This is the list of all the special popcorn flavors in Tokyo Disneyland, DisneySea has a few different ones. The first flavor we tried was curry which was quite good, and ended up being my wife's favorite. I personally enjoyed the Honey popcorn, but even then it didn't blow me away. I was expecting an explosion of whatever flavor the popcorn was advertised as, but instead the taste was more subtle. But don't get me wrong, it was nice having a bunch of options.


Pirates of the Caribbean is one of those Disney rides that is so familiar to me. I've been on it hundreds of times back home at Disneyland (and a few dozen on the unfortunate version in Magic Kingdom), but it was great to experience Tokyo's Pirates. All the praise I gave Haunted Mansion in the last trip report can also be applied to TDL's Pirates of the Caribbean. Everything was crisp and well maintained, animatronics had fluid motion and looked great, and the sound was crystal clear. I should also point out that Tokyo's PotC has the same entrance facade as the original at Disneyland, but it's missing the bridge that was added in the 80s, it's also missing the stairs that lead up to what is currently the Dream Suite in Disneyland (formerly the Disneyland Gallery). It's a cool little throwback for long time Disneyland visitors.

At this point in the day the lines were long and all Fastpass tickets had been distributed so we opted to slow down a bit a take and walk around the park. World Bazaar has always been one of those strange Tokyo Disneyland oddities to me, I mean a covered Main Street is just so weird. But it makes a surprising amount of sense when seeing it in person. I never noticed until Tom pointed it out but the roof looks like the old Exhibition structures from the old World's Fairs (like the International Exhibition of 1876 section of American Adventure at Epcot). It just works really well.

We headed over to the Rivers of America to take a sunset ride aboard the Mark Twain riverboat. Tokyo's Mark Twain is pretty much an exact copy of the one in Disneyland, which is fine because it's a beautiful ship. Rides like the Mark Twain (and railroads and Main Street Vehicles) are what I think the quintessential Disney experiences are in any park. Things like boats and trains are why Walt wanted to build the parks in the first place so I consider them a must ride.

Tokyo Disneyland's Rivers of America does not disappoint. There was plenty of beautiful scenery to take in, and like RoA in other Disney parks, it makes you feel like you're in a different world.

And they still have a burning cabin! That's been missing from Disneyland and Magic Kingdom for years, it was great to see that again.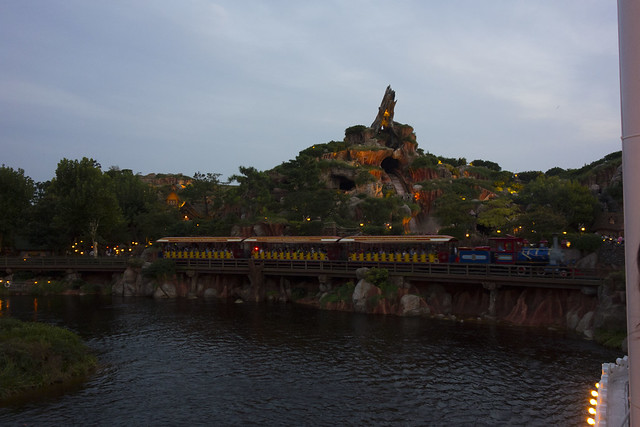 Coming back around the river we got a great look at the Western River Railroad and Splash Mountain. Westernland is one of the most beautiful lands in all of Tokyo Disney.

Time for dinner, like I mentioned in the first part of this trip report, lines for quick service restaurants were all over 30 minutes. Just by chance we walked by a little spot called The Gazebo and saw that they had seafood stew in a breadcone. The stew had a thick rich and creamy base with shrimp and scallops. Very good, but due to its size it's definitely more of a snack than a full meal.
Also at The Gazebo was this delicious Pumpkin Custard dessert. The cone part is chewy and a bit sweet, and it's topped with a creampuff, marshmallow, and a chunk of dried pumpkin. The real star of the show is the pumpkin custard that fills the bottom part of the cone. Overall, a great dessert.

Our last stop of the night ended up being *long title incoming* The Enchanted Tiki Room: Aloha E Komo Mai. Unfortunately this ended up being the only dud of the trip.

Basically Stitch is the boss of the Tiki Room, or is mistaken as the boss of the Tiki Room. I couldn't get a clear idea of the show because it was in Japanese. Listening in English also did not make it any more clear and didn't make me enjoy it any more or less. The Stitch animatronic is impressive but the songs fell flat with me.

That ended our first day in Tokyo Disneyland. Overall it's a great park with a lot of familiar rides as well as some great new ones.

Before I end this part of the trip report I wanted to mention the great room we had at Hilton Tokyo Bay. We booked one of the standard "Celebrio" rooms.

The room was large, a little bit bigger than a standard room at a deluxe Walt Disney World hotel.

The bathroom also had plenty of room and a great shower.

Our view of Tokyo Bay. Overall this was a great hotel, and was less than half the cost of the official Disney hotels. The one complaint we had was that there was only 5 power outlets in the entire room. This was fine with 2 people but when we were splitting the room with Tom and Sarah we had a severe shortage of outlets with everyone trying to charge their phones, mobile wifi routers, and portable chargers. Otherwise Hilton Tokyo Bay was great and we will definitely stay there again in the future.
That's it for this time. In the next installment I will talk about my first trip to Tokyo DisneySea! See you later this week!